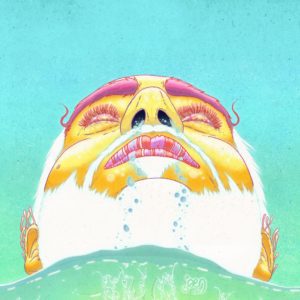 Where are you from? (Provide a little bit of your background, have you moved etc)
I'm from Bordeaux, southwest of France. I lived a few years in London and Paris as a kid, and 1 year in Nagoya (Japan) as an adult.
Can you tell us about your background and what lead you down the path to becoming an artist and ultimately experimenting with NFTs?
Like many artists, I started being an artist in my earliest days, first as a way to cope with reality by creating better imaginary worlds. Drawing and telling stories was the easiest. When I was a teenager, I discovered writing and making music.
Failing my entry into Fine Arts studies – best failure ever for an artist, actually! – I fell in love with foreign languages, learning English and Japanese up to 2 Master's degrees, while making paintings, illustrations, photography and music on the side. At the end of my 2nd Master's, I wrote a thesis on Murakami Takashi and his relationship with Japanese culture, philosophy & art history. I was then invited to enroll in a PhD and utlimately become an anthropologist in contemporary Japanese art, but I asked myself "do I really want to spend the rest of my days studying someone else's art, instead of focusing on mine"? The answer was no, and I started the long and very hard path of being a professional, full-time artist. It was 2010.
In my practice, I was already making digital illustrations all the time, and as I started to experiment with animation, since I was also making music, I was looking to put the freedom and power of digital art at the center of my personal art practice as well. 1/1 archival prints with augmented reality, 3D printed or AR-enabled street art were all attempts at doing this, but it was hard to do that in the traditional network of art galleries, let alone sell anything. When a friend, who had been into cryptocurrencies for a while, told me I had to try NFTs, thinking I'd be a good fit, it took me 3 months to get around to it, intimidated by the knowledge needed to understand blockchains. I was working on the project 
Cornælhuys
 – unearthing strange masks from the Renaissance and making them my own through colours and animation 500 years later. Soon, it became obvious their place was in the Digital Renaissance, and that became my submission to SuperRare as my first cryptoart project.
When did you mint your first NFT? What platform did you choose and why?
The first platforms I applied to were SuperRare and Async Art, quite frankly because I didn't know much about cryptoart and found them on a top platform list on Google. Little did I know I was so lucky to have picked and been accepted by the 2 best there was. Got whitelisted in November/December 2020, and minted my first NFTs on both in January 2021, trying things out with one-shots, 
Le Visionnaire on Async
 and 
StareCase on SR
.
Can you tell us one thing you cannot live without? (and why)
Creating stuff. I just love creating – whether that's through music, storytelling or visual arts, it fills a void nothing else can fill.
Who is your favorite artist(s) (Non NFT)? What about their style resonates with you?
Let's go with a few: Salvador Dali, Jean Giraud AKA Moebius, René Magritte, Murakami Takashi, James Jean, and many other contemporaries, high or low-brow notwithstanding. You can clearly see the connection to my own aesthetics and themes: surreal, dreamy, bold outlines and colorfulness. And a certain taste for the strange.
Who is your favourite NFT artist? What makes this artist unique?
I don't have one, it's impossible. I will drop many names, and forget a lot of tremendous artists. What makes them unique is that while anyone can be imitated, they have a voice of their own and you know it's them whenever you see the work. XCOPY, Glowa, UntitledArmy, Alotta Money, Bananakin, Samira Ingold / Rain, Emma Vauloup, Zutto, EM!, Sofiane Who Knocks, Cosmic Nuggets, etc.
What made you pursue NFT art?
As I said earlier, it was like finding home, after trying to build one for years. I don't make only eye candies, I always tell a story, and since NFTs are highly social, it's a better place than the trad art world for that. Also, not being limited to geographical constraints and available physical space to make and store art, exhibit, find friends and collectors is a huge plus. It's also way less boring than the trad art world in many ways, there is the same exciting energy you could find in street art.
What is the one piece of NFT art you wish you had purchased but missed out on?
The First Supper
, on Async. So many reasons, some are personal, some are objective, but it's one of the most significant ones from cryptoart.
If you could travel anywhere in the world where would you go? Why this location?
I'm content to be where I am. I have nature all around, and the people I love around me. I miss a bit Kyôto and Japan in general, and hope to continue discovering new places as I grow older, but having traveled a decent amount and regarding the astronomical environmental footprint of planes, travelling is less of a priority now.
What are your other passions besides art? Why?
Music is art, so yeah, music. I'm having a hard time making time for it lately, but when it clicks, there's a special kind of magic happening.
Do you make other forms of art?
Writing a tiny little bit, live and electronic music, 3d printed street art, painting and drawing. Lately, I don't have time for anything else besides cryptoart, though.
How did you come up with your specific style?
It happened organically. There was a decisive moment, when I thought that if I wanted to be a "serious" artist, I'd have to sculpt lights & shadows and quit using outlines. Then, I re-discovered Moebius, and said to hell with it – I love outlines, let's honour them and push them forward.
How has your style evolved over the years?
Less fluff, more precision, putting out colours exactly like I want them. Probably cleaner composition as well, and a better mix of simplicity and complexity.
What is coming in the near future?
I just dropped my first generative project on Async Art, 
0nir0 Dreams
, which is already the 3rd season of my dreamworld 0nir0. I'm making progress on continuing my initial cryptoart project Cornælhuys and aim at museum exhibitions at some point. Lastly, I started working a project to save the environment (buying old forests, namely) to save biodiversity and fight against climate change through NFTs, it's called 
Metabiome
 and will have a 10K PFP.
If you could collaborate with one artist who would it be?
I've had the chance to collaborate with great artists and friends already (namely Glowa, Rain, Burak Sentürk) and many more planned, and would love to collab with Murakami Takashi because it would close the loop with my thesis, or maybe XCOPY or Jeff Soto, would be super fun. A regret is not having had the time to collab with Alotta Money, who'd been an awesome support and mentor in my cryptoart adventures.
Do you have any upcoming drops?
The Big Dream
, a project I've art directed for more than a year, and quite frankly the most epic and universal cryptoart, or even collective art project you've ever seen (500 pieces created from dreams sent by the whole world, 50 artists of all kinds of backgrounds, tourning the world, and the first cryptoart to be exhibited inside the International Space Station), is dropping soon on Nifty Gateway. It's super exciting, 
send us your dream
, and 
stay tuned
 for the drop!
Where can collectors find your work?
On SuperRare, Async Art and KnownOrigin, and I have started using Manifold sovereign contracts too. I have a very affordable series on Tezos as well.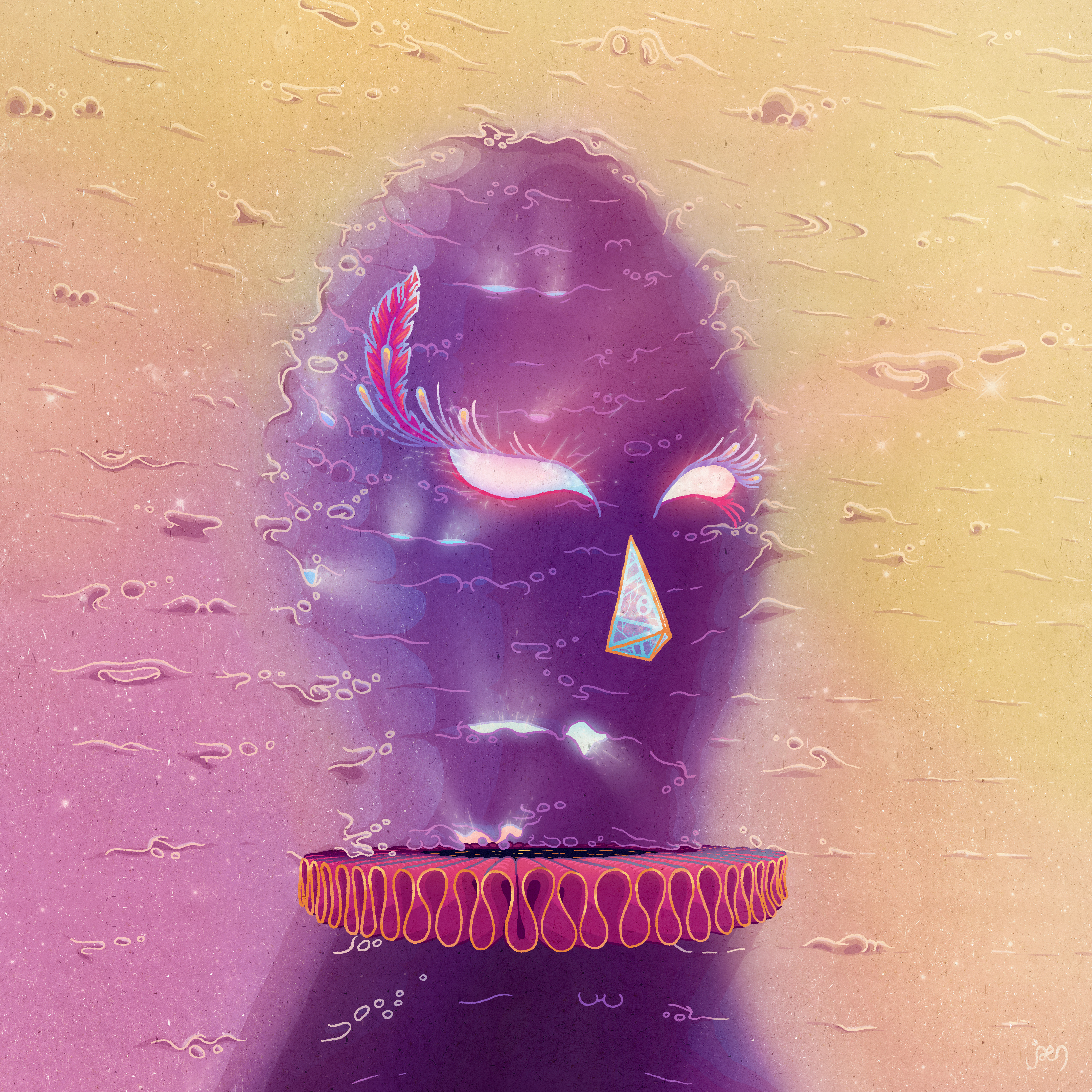 What was your greatest failure and what did you learn from that?
Not trusting your guts and sticking with it. Slowly learning to recognise the pattern when it matters.
Anything else you'd like to share
Hello  🙂 Nice to meet you.
Link to Website:
Social links:
NFT marketplace links: