Early last month, Crypto YouTuber Alex Becker and Elliotrades announced their new NFT project: Neo Tokyo Identities. However, unlike the path normally trodden by NFT projects, Neo Tokyo Identities is shrouded in secrecy. To mint the NFTs, people have to get into whitelists by solving riddles. It's not easy to join their Discord either. 
Despite all the secrecy (or perhaps because of it), the project took off almost instantly. What was launched as free to mint NFTs now has a floor of 11.9 ETH (around $51,500) on OpenSea!
Neo Tokyo Identities: What we know so far
Neo Tokyo Identities consists of 2018 identities and 2500 vault cards. The collection, in Becker's words, claims to be the "fairest NFT drop in history." In this regard, it has no pre-sales, is free to mint, and both Becker and Elliotrades hold only one NFT each. 
The aim is to build a truly community-focused project that develops a "culture of long term participation". All the advantages will lie with "Citizens" who are active and "pay attention" to all the announcements. Besides, there are "games within games inside the codes" to "root out" passive holders.
Moreover, the NFTs are strings of codes that come with "many aspects" that will give "citizens great power in Neo Tokyo."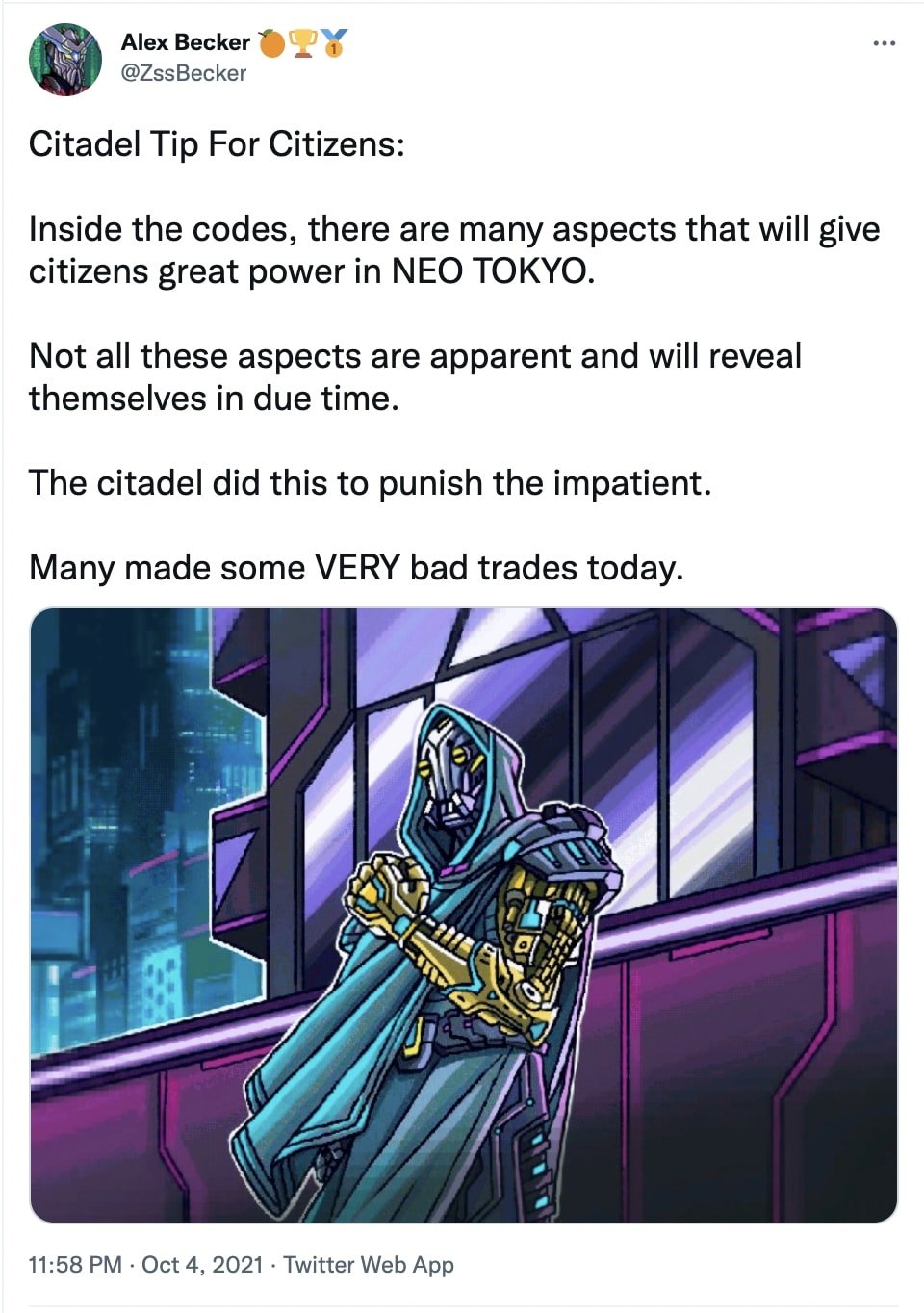 "Read the code. Know the code. You are your code, but you will be many codes," Becker tweeted. "Those who learn the code, will [have] advantages beyond imagination when they assume full digital form."
Getting the Neo Tokyo NFTs
Getting yourself an NFT in the collection is no piece of cake. Only those who are in Neo Tokyo's whitelist were allowed to mint the NFTs. Moreover, only those who solved the riddles or won games made it to the whitelist on a first come first serve basis. Then, on Upload Day (October 3), Becker dropped whitelists in groups, with each group having 10 minutes to mint the Neo Tokyo Identities. 
The lists contained proofs (codes) and mint numbers corresponding to each wallet address. This, however, did not guarantee a mint. Users had to go to the website and "pass" another test. 
According to Dave Loyal, users could access a chatbox on Neo Tokyo Identities' website on Upload Day. Here, they were asked a number of questions, the answers to which could be found in various clues and codes Becker tweeted previously. At the end of the questions, the project gave users Etherscan addresses and contract links where they had to enter their whitelist number and proof to mint the NFTs. 
Furthermore, on October 16, the team posted the contract link to mint vault cards. The process was the same as before, with each Neo Tokyo holder getting two hours to grab a single vault. However, if the holders did not make it in time, game-winners on the whitelist could "steal" the vault.

What the numbers say
Today, Neo Tokyo Identities is the top 11th collection by seven-day trade volume, according to DappRadar data. While it amassed $7.85 million in the last seven days alone, its all-time trade volume has hit $33.45 million. Some of the NFTs in the collection have also sold for hefty sums. Character #1990, for instance, fetched around $270,000.
Clearly, Neo Tokyo Identities is an NFT project like no other. Can it give top collections like The Bored Ape Yacht Club, Cool Cats, and CryptoPunks a run for their money? Well, we can't wait to find out! 
Are you tired of missing important NFT drops?
Just check out our NFT Calendar !
Subscribe to our hot social media and don't miss anything else
If you're old school :
All investment/financial opinions expressed by NFTevening.com are not recommendations.
This article is educational material.
As always, make your own research prior to making any kind of investments.